Shop The Look!
Once a month we share styled selections that are completely shoppable! Whether you have absolutely fallen in love with a particular piece of furniture, a luxury decor item, or the whole visage, our Shop The Look designs offer inspiration that you can take home today!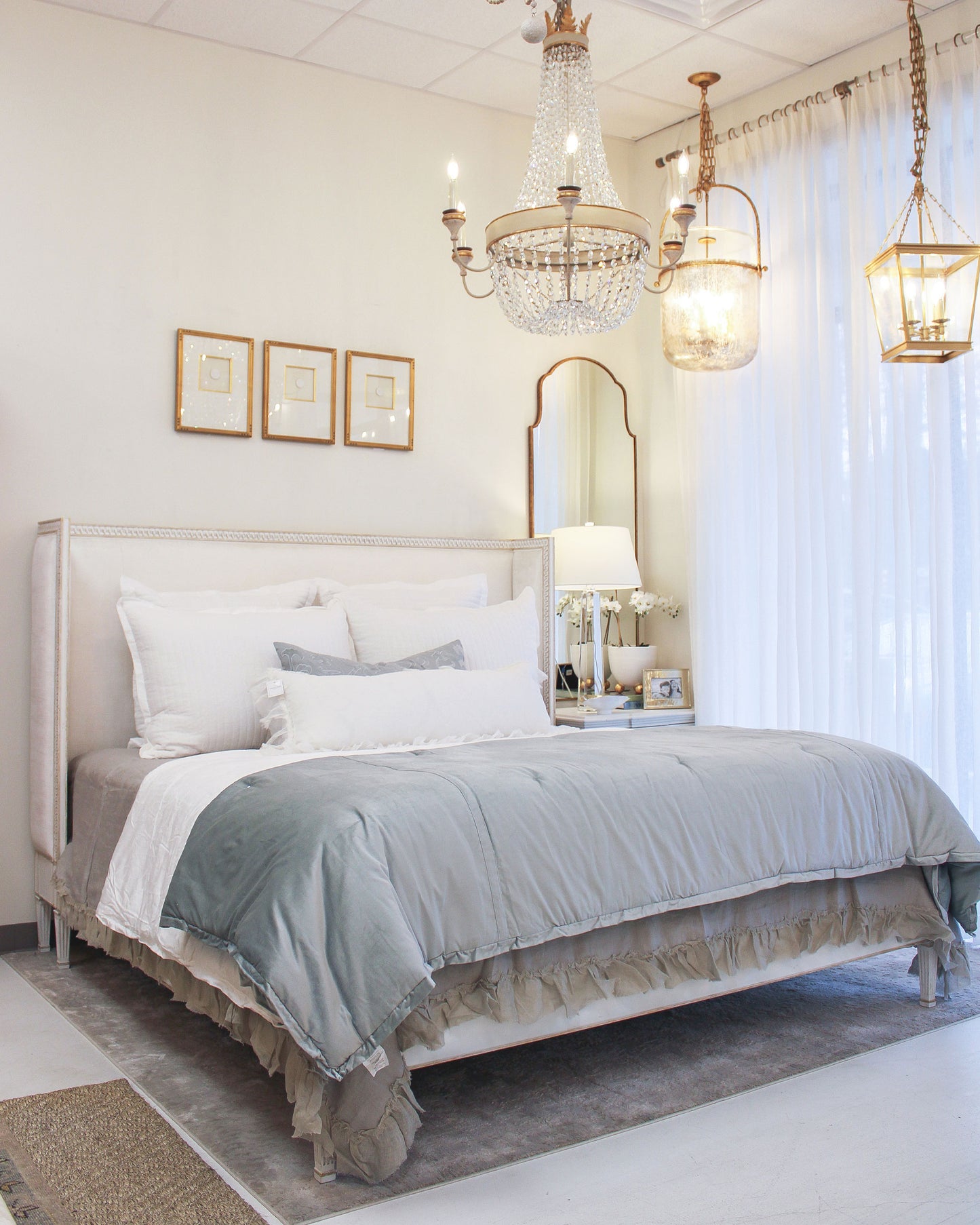 February
Add a bit of romance to your bedroom with one of our latest new arrivals, the Cassia Bed! The Eloquence Cassia Bed is a luxurious blend of old world meets new world. This Swedish-style wing bed features refreshingly simple lines, showcases artisan running ribbon, and bead hand carvings around the headboard, and is finished with a graceful Gustavian tapered leg. This touch of Swedish history mixed with its modern shape enables it to inspire both romantic and minimalist style homes.
This gorgeous bed comes in two sizes Queen: 64"W x 56"H x 85"D | King: 81"W x 59"H x 85"D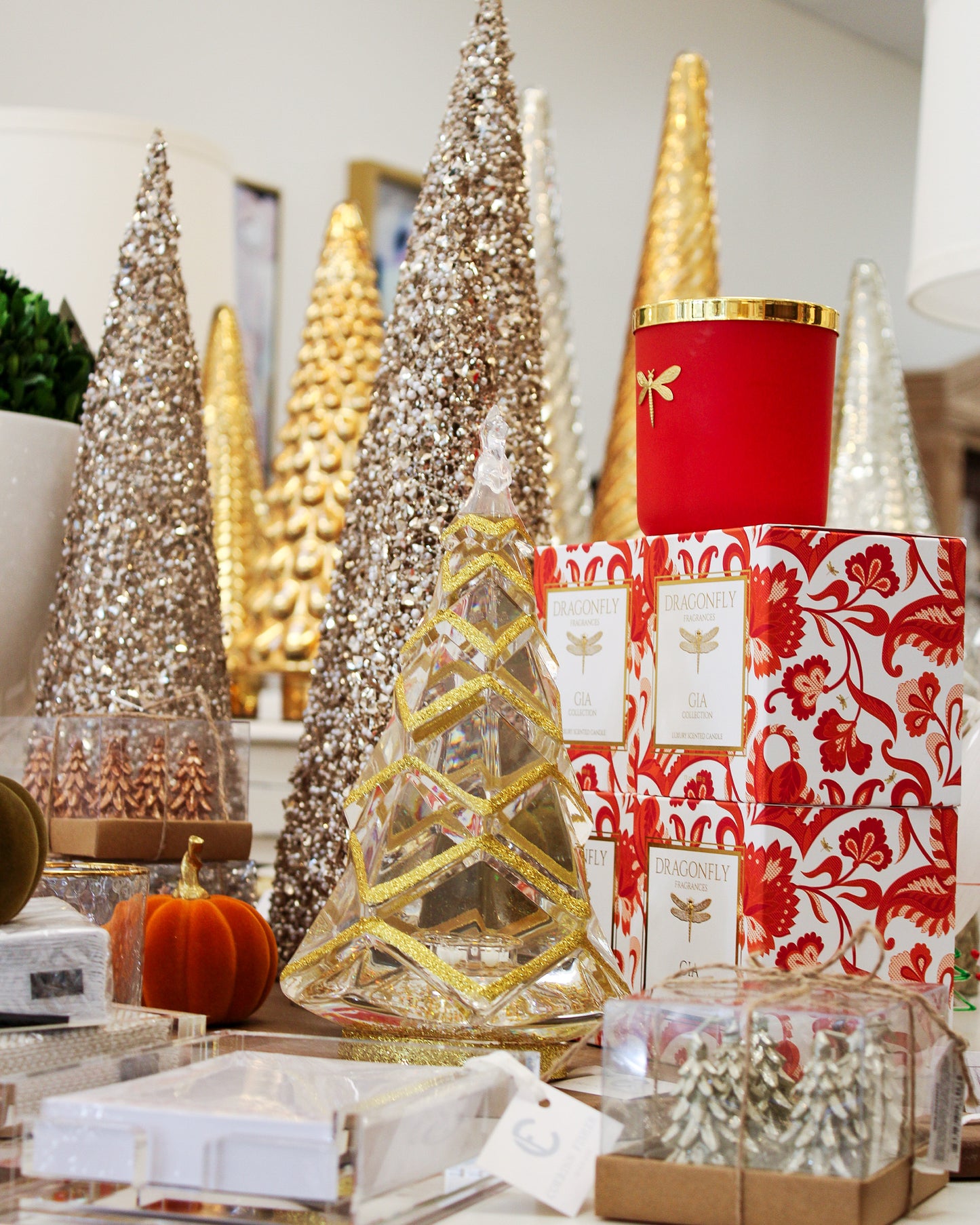 NOVEMBER
It's the most wonderful time of the year and Christmas is just around the corner! We are making spirits bright with gifts and exquisite selections for your home's holiday display. It's time to shop merry!
Featured:
Assorted Gifts 
Assorted Holiday Decor
Candles | Assorted Holiday Scented Candles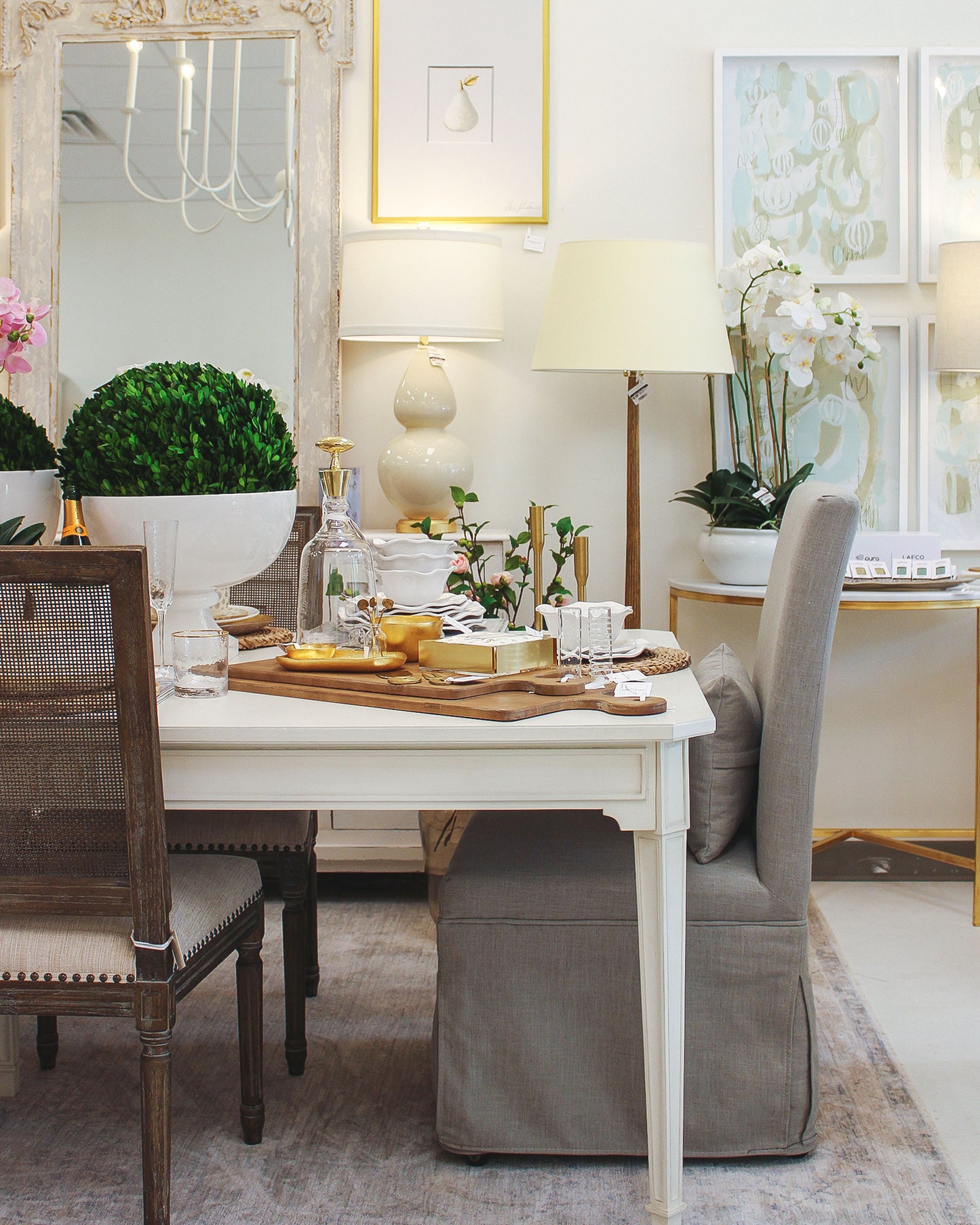 OCTOBER
A well thought out presentation can make a striking impression on friends and family. Elegance is never out of style and it's time to dress up the diamond of the season! Shop the Look in store today at Corrinn Fisher Interiors.
Featured
Mirror | Sold, Curated
Table Lamp | Ceramic Eggshell, Curated
Floor Lamp | Strie by Visual Comfort, Gilded
Tableware | Vietri and Le Cadeaux Melamine
Woven Chairs | Square Cane Back Dining Chair
Lighting | Chandelier with White Plaster Finish, Curated
Dining Table Chairs | Castered Armless Grey Linen Parsons
Dining Table | French Market Collection (Extends up to 120 inches)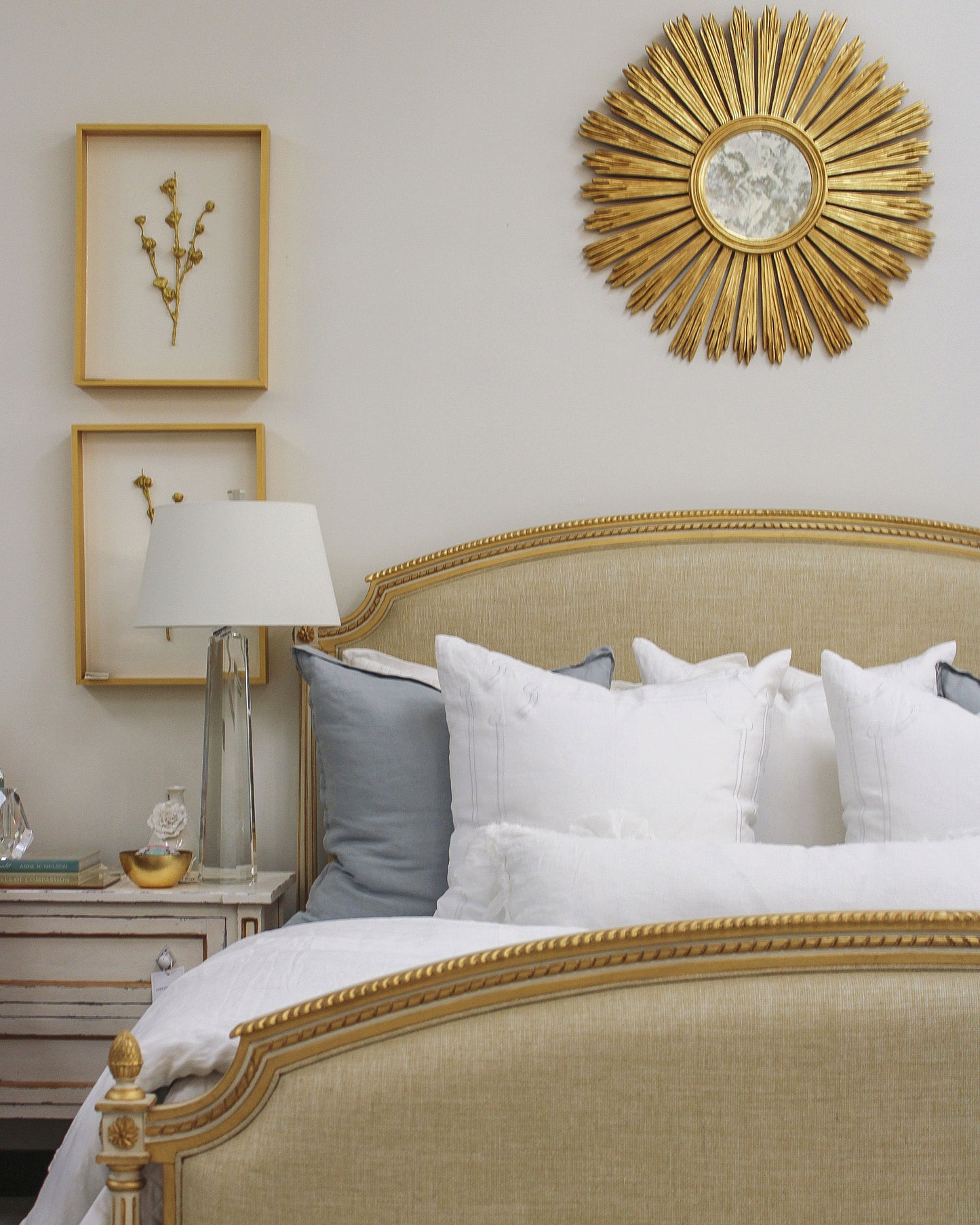 September
Shop the Look and schedule a delivery today! Fine art, accessories, and all featured items are ready to come home with you today. Visit our store to shop this look in person, or check out other fabulous items that elevate your space with luxury stylings!
Featured Bedding | Lili Alessandra
Lighting | Crystal, Visual Comfort
Mirror | Sunburst Mirror-Worlds Away
Bed | Roosevelt, French Market Collection

Nightstand | Curated, 2 Drawer Nightstand

Fine Art | The Botanical Series, Dan Matisse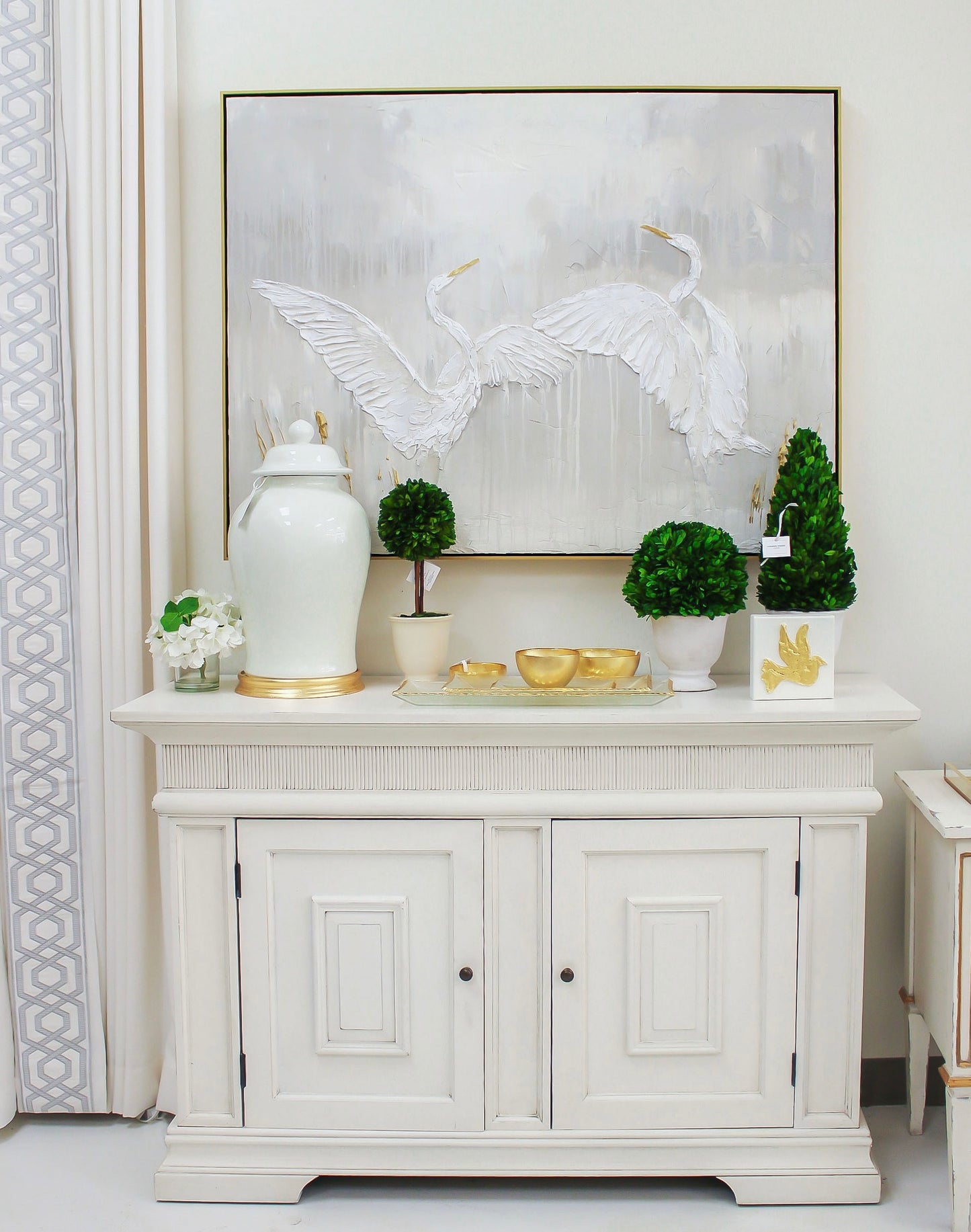 August
Shop The Look and Style Up! All of these chic items have been hand selected with discerning taste and our clientele in mind. Accent pieces that have been custom designed, paired with curated furnishings and fine art can create a sophisticated vision. Visit our showroom today and shop the look! 
Featured Furniture | Accent Cabinet, Curated
Decor | Preserved Boxwood Topiairies and Floral Accents
Decor | Temple Jar Gold Based, Custom
Luxury Tableware | Glass Gold Rim Platter, Curated
Luxury Tableware | Metalic Gold Bowls, Handcrafted by Beatriz Ball, New Orleans
Fine Art | Dan Matisse, Curated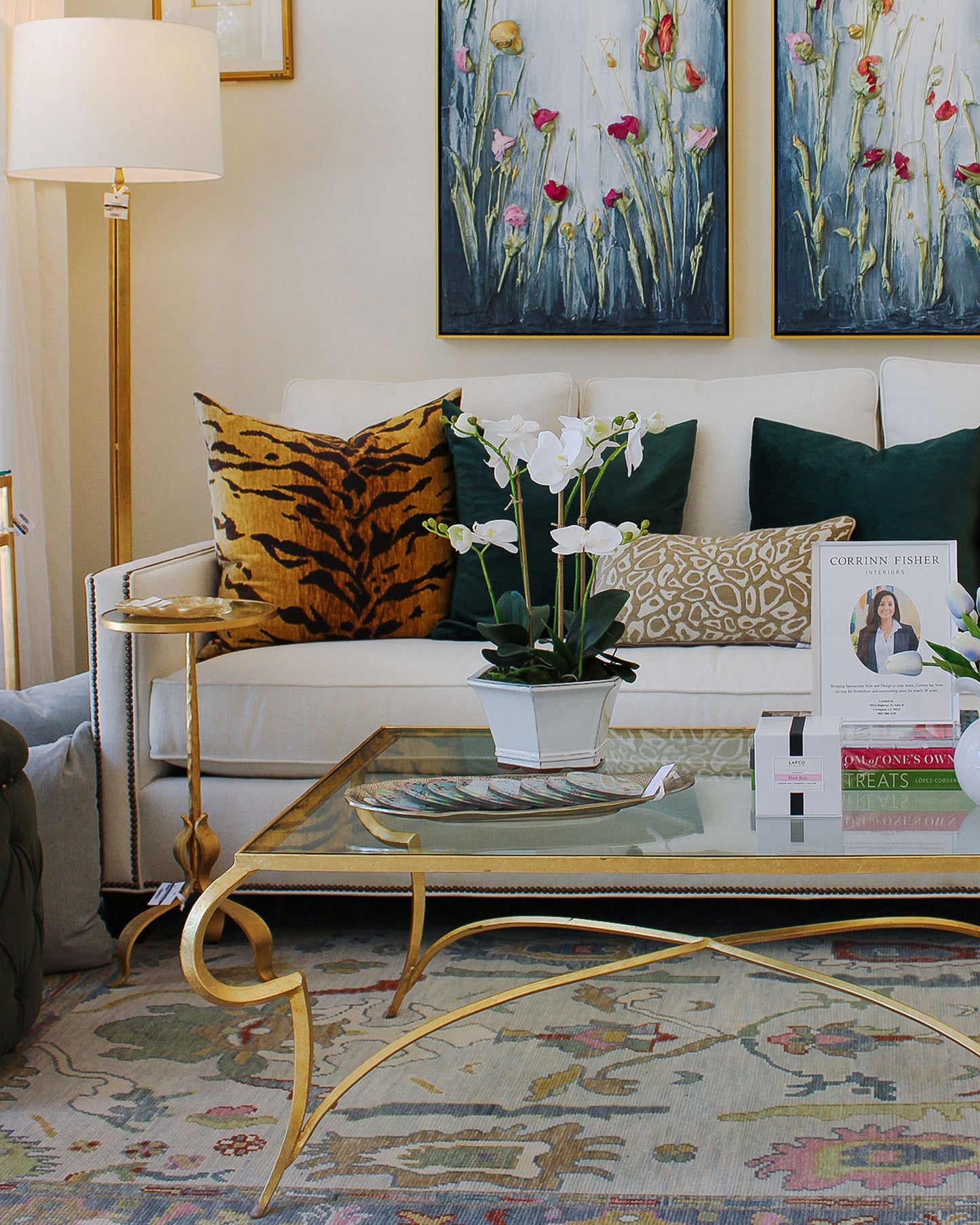 July
Shop the look! Create a sense of wonder in your home with the luxury stylings of Corrinn Fisher Interiors. This design comes to life with selections of rich accent colors, fine art, and dreamy furnishings that complement each other. 
Featured:

Gabby Evalina | Coffee Table
Fairfield | Bench Sofa
Feizy | Custom Hand Knotted Rug
Curated | Floor Lamp
Dan Matisse | Botanical Series, Art
Browse our selections and shop inspired styles today at our store located in Covington.
News
Check out our blog posts to keep up with the latest from Corrinn Fisher Interiors. This is where you will find upcoming events like sales, design tips, and so much more!